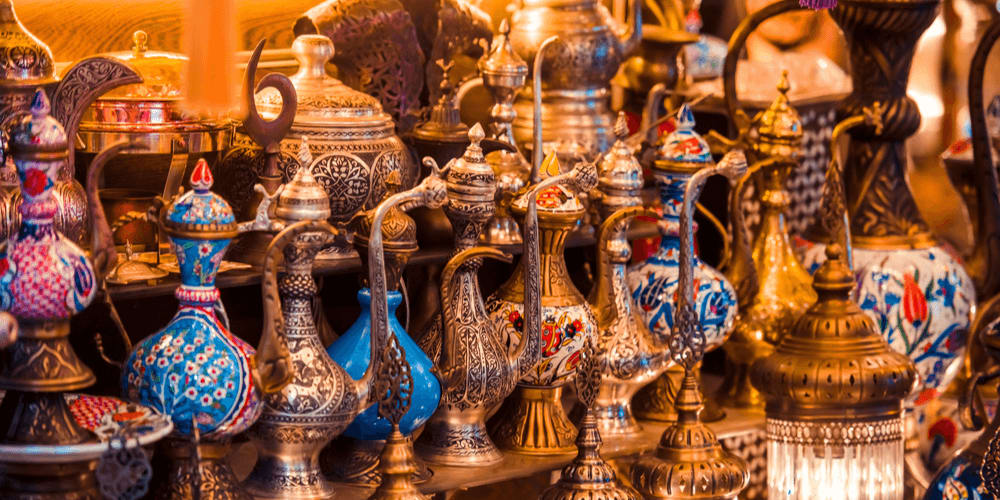 Going abroad and not bringing home a wonderful curiosity from your trip is the biggest mistake a tourist could ever make, especially when it comes to historically and culturally rich Turkey! So, if you like souvenirs just as much as I do, then this shopping guide is something you should definitely read before visiting Istanbul!

Grand Bazaar

If you are craving for a unique and exciting shopping experience, the first place you should make for is the Grand Bazaar located in the Fatih district of Istanbul! It's far from a mall you've got used to; just imagine, there are 64 lanes of boutiques and workshops, each of them attracting you with hundreds of most curious and fancy things.
It's the world's largest and most impressive market; whenever you go, you always remain surrounded with oriental rugs and carpets, copper vessels and cookware, chandeliers, jewelry, bijouterie, musical instruments, figurines of sultans, belly dance costumes, or replicas of different objects from the Ottoman Empire – all this profusive variety of exotic items can make your head spin!
Experienced shoppers will definitely have fun bargaining with local merchants and in the end, will end up with a few cheap and cool souvenirs. However, if you are more of an occasional shopper, you should be prepared for the fact that local shopkeepers are far from being shy when it comes to forcing you to buy more than you intend to; therefore, first and foremost, never be afraid just to walk away, otherwise you may end up with a heap of totally unnecessary things!

Egyptian/Spice Bazaar

There is only one market in Istanbul that can compete with the distinctive charm of the Grand Bazaar. The Spice Bazaar, aka the Egyptian Bazaar, is also located in the district of Fatih. I like to bring home not only fanciful souvenirs but also to surprise my friends with something tasty! So, for edible souvenirs, go to the Spice Bazaar.
Naturally, the market has much more to offer than just spices; the display of the variety of dried fruits, nuts, Turkish delights is really mouthwatering! And, the icing on the cake is that you can taste-test delicacies on offer; still feel the fantastic taste of Turkish delight with hazelnuts! Also, be sure to buy, or taste, traditional foods – if you are a sweet tooth, try healthy and delicious carob and mulberry paste!

Sahaflar Bazaar

If you are a rare book hunter or just a book lover and you are visiting Istanbul, consider yourself extremely lucky; located near the Grand Bazaar, the Sahaflar Book Bazaar has been welcoming thousands of visitors every day since Byzantine times!
You can spend hours wandering about the labyrinth of bookstores specializing in both rare antique books and contemporary literature translated into different languages. You should definitely thumb through a couple of old books trying to guess the life story of their previous owners; it's a truly overwhelming experience that helps clear your head of everyday concerns!

Surely, Istanbul has lots of other bazaars and markets scattered around the city. All of them are very atmospheric and offer most exciting shopping experience. Whatever destination you pick, you will definitely find something that will catch your eye – so, have a good shopping spree!
How much do you know about Istanbul? Take this quiz and find out!
What is the former name of Istanbul?
Give your answer!