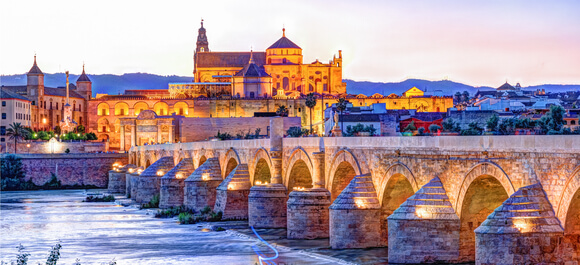 We have already explored most outstanding sights of Madrid, the most popular tourist destination, so this time we're going to take a road trip from Madrid, the heart of Spain, to fantastic Alicante, making a few stops on the way.
Toledo
If you drive about 62 miles south, you will pass through the picturesque city of Toledo, the "City of the Three Cultures" that has experienced the influence of Christian, Islamic and Jewish cultures throughout the history. Besides visiting innumerable temples, cathedrals, churches, synagogues, or mosques that are truly marvelous, do have yourself a good time exploring labyrinths of narrow streets, every inch of which possesses inexpressible historic charm; there are a lot of convents in the city that feature the works of El Greco, the world-renowned Spanish painter and sculptor.
Besides, Toledo is famous for its metalwork art, especially for the production of bladed weapons, so be sure to visit a souvenir store! In Toledo, I also fell in love with handmade marzipan, or "mazapan de Toledo"; it's literally the best marzipan in the world!
Must-see list: Toledo Cathedral, Puente de San Martin, Palacio de Galiana, Mezquita de las Tornerias, Synagogue of El Transito, Puerta de Bisagra.
Cardoba
Cardoba is a true jewel in the crown of Andalusia. Once being one of the greatest cities of Europe, Cardoba carefully cherishes and protects the legacy of its past. An unhurried walk through the heart of Cardoba will introduce you to an outstanding architectural masterpiece; the Great Mosque of Cardoba. I was surprised to know that in fact the Great Mosque is the Cathedral of Our Lady of the Assumption, to which it was converted in the XVI century. A true blend of cultures! I'm sure that atmospheric Moorish and Jewish quarters won't leave you indifferent, too.
Whitewashed houses, innumerable colorful beds of flowers, and cozy cafes rub shoulders with modern buildings, big supermarkets and glamorous restaurants. The city is a real paradise for gourmets. I should say that I truly enjoyed Naranja con Aceite y Bacalao (Salt cod with olives and oranges) and Salmorejo (a type of tomato soup). To make a deeper dive into the atmosphere of Spain, visit fantastic and passionate flamenco shows Cardoba is famous for. The city has a rich flamenco history, so for the finest flamenco experience do visit Tablao Flamenco Cardenal!
Must-see list: The Great Mosque of Cardoba, Roman temple of Cardoba, San Nicolas de la Villa, Municipal Park Zoo.
Seville
You will definitely fall in love with Seville from the very minute your vehicle enters this splendid atmospheric city! Old-fashioned houses, elegant benches and street lamps create a unique atmosphere of Seville. The most popular tourist attraction is, no doubt, Seville Cathedral constructed in the Gothic style. I should say that the Cathedral leaves a lasting and unusual impression due to its gloomy and mystical beauty that is really hard to put in words!
If you are a nature lover, indulge yourself with a long walk through the amazing Parque de Maria Luisa! I find it the most gorgeous park in Europe and, probably, in the world!
Must-see list: Alcazar of Seville, Torre del Oro, Seville Cathedral, Monastery of Santa Maria de las Cuevas, Flamenco Dance Museum.
I hope you've enjoyed our today's adventure! It was a long journey, so we all need some rest for now! Next time we'll continue our journey and explore Ronda, Malaga, and Alicante! Hasta pronto!
How well do you know the capital city of Spain?
Name the main square of Madrid.
Give your answer!