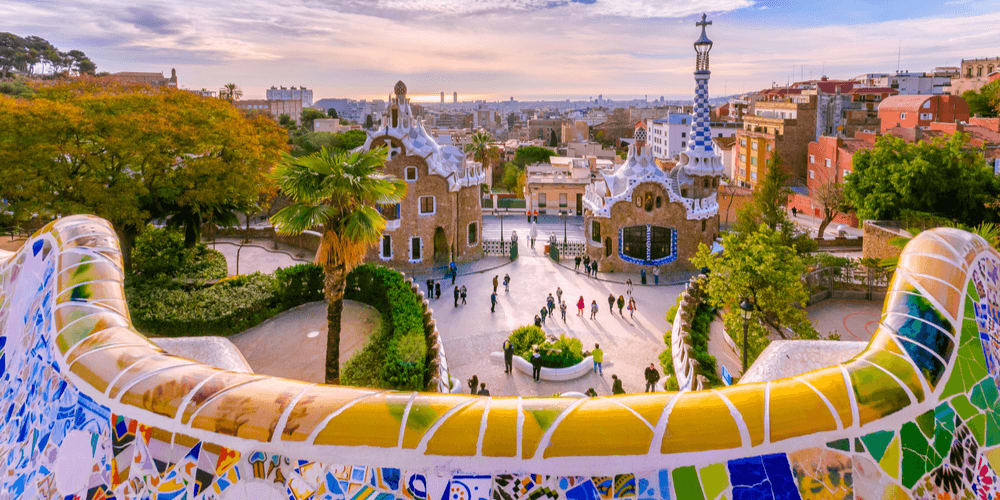 If you are planning a trip to Spain, do visit Barcelona! It is a unique and beautiful city that differs from the rest of Spain. In fact, you can't really get to know the country, if you don't go to the city of Gaudi! So, the must-see list of any tourist should include:
La Sagrada Familia
Most people call La Sagrada Familia a cathedral; in fact, it is a church of a tremendous size! Designed by Antoni Gaudi, the church has been under construction since 1882! It's expected to be completed only by 2026! Therefore, La Sagrada Familia is a record-breaker when it comes to interminable construction.
Park Guell
You can wander about the park for hours fascinated by its beautiful gardens and strange-looking buildings. A quaint stairway at the Carrer d'Olot entrance seems to invite you to the world of Gaud's dreams. The stairway leads to the Hypostyle Room that is made up of dozens of columns.
La Rambla
La Rambla, a street in the very heart of Barcelona, is a popular tourist attraction. Dozens of street performers, artists and souvenir sellers create the unique and fascinating atmosphere of the street. Besides, it's famous for beautiful tile mosaics, decorations and paintings on buildings.
Aquarium Barcelona
Aquarium Barcelona can boast of the largest collection of Mediterranean Sea species in Europe! There are hundreds of sea creatures displayed in panoramic wall aquariums; sea horses, catsharks, sea dragons, and even shark eggs!
Casa Mila
The Casa Mila, Antonio Gaudi's masterpiece, has no straight lines and right angles at all! It's only natural that one of the quaintest buildings in the world has a fantastic roof, too; you can hardly expect Gaudi to have designed ordinary chimneys for his masterpiece!
Towns and villages near Barcelona
Nearby towns and villages are just as fantastic as Barcelona itself! A train will take you to the small sunny coastal town of Lloret de Mar in just 40 minutes. The town offers spectacular landscapes and mild Mediterranean climate. If you are a true art connoisseur, do visit Dali Theatre-Museum, Figueres, that is open from 9.30 am to 6 pm.
Quick geo quiz
Test your knowledge of the world now!
Play Quiz